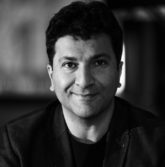 Fardad Zabetian
'21
C-Suite Advisor Since 2021
Co-founder and CEO | KUDO
Biography:
Life transitions create some of the most accomplished people in the world, and explain how impressive dossiers come to be built.
Fardad Zabetian, CEO and Co-Founder of KUDO, Inc., has hatched five companies, two before the age of 24 and two of which were named by the Daily Deal Flow as "fastest growing businesses in America." The tech entrepreneur has spent a lifetime removing frictions between people and in ways that have disrupted how audio, video and language interpretation is used in global business. All of these experiences have enabled him to work with diplomats, government executives, and the heads of legendary institutions globally.
In a nutshell, Zabetian is a master of audio conferencing, microphone discussion systems, electronic voting, meeting management, simultaneous interpretation for meeting rooms, boardrooms, council chambers, and auditorium systems.
An engineering mind tempered with a wicked intuition for people is a rare combination of attributes that were at the core of what drove a 26-year old Zabetian to come to the U.S. He came to the center of the tech universe with high ambitions to find a job in 2000, but with the recent dotcom bubble burst, pivoted toward entrepreneurship instead.
After building conferencing systems in Europe and Iran for years prior, Zabetian established Media Vision in 2002 in San Francisco which sold conferencing hardware and language interpretation equipment. The company quickly grew by selling cutting edge services to cities throughout the U.S. In less than 4 years, their work attracted a storied client who requested a makeover of their conference centers and general assembly hall in New York City. This turning point catapulted the company from it's first humble office in San Francisco to a move to the Big Apple.
For the next 18 years, Zabetian built teams of talent who outfitted conference centers and built language translation studios in the U.S., Europe, and Asia. They disrupted how global business operated by saving major institutions and companies massive amounts of travel time and money.
In 2007, Zabetian created Conference Rental USA, which also benefited global businesses similarly, but leased the high tech equipment for conferences. His first client was the 2009 North American Leaders Summit, providing interpreter infrastructure services for the U.S. President Barack Obama, Stephen Harper of Canada, and Felipe Calderon of Mexico.
Zabetian grew a reputation that continued to attract blue ribbon clients on every continent – and did it with a lot of heart.
In 2016, Fardad also co-founded AVAtronics, a Swiss technology company that focuses on active noise canceling technology with applications in headphones, smart speakers, conferencing, and smart TVs.
Only one year later, Zabetian began to concentrate on disrupting yet another level of global communication: the language barrier. Marrying the best of technology and skills of highly skilled interpreters who were no longer being flown around the world to meetings, he created KUDO.
His mission is to break language barriers, and truly connect people worldwide. "When businesses, thought leaders, innovators, and creatives are able to develop ideas through collaboration, true progress happens," he explains. "I am passionate about removing a major blockage of language, so that all businesses attain their potential, and opportunities for collaboration are limitless."
The cloud-based video conference platform makes multilingual meetings easy and connects 1000s of interpreters who speak 100+ spoken and sign languages to the meeting table. His creation of KUDO Marketplace in 2021 added a simple online scheduling and conference interface.
"We experienced a major growth in 2020," Zabetian says. "The usage of virtual meeting tech during the pandemic catapulted us into a very high growth mode. Our team of 10 became 100 in 9 months, what started as 20 meetings a month ballooned to 1000s and the 2 million usage minutes a week became 4 million a day."
Zabetian is inspired by being surrounded by accomplished people and feels deep satisfaction in building teams. He adds from his warm persimmon-walled office in midtown: "We took the meeting experience beyond the room and are connecting businesses and people in a truly borderless fashion, without language or any geographic constraints. We are creating a movement that resonates with people and they want to be part of it. It was going to happen. Someone had to do it."
When asked what he does in his spare time, Zabetian wrinkles his brow and laughs at the thought of such a thing, but finds plenty of time for his young family. Voraciously interested in learning, he was so inspired by enrolling his two young children into the School of Rock, that he started to study music. He is also an active member of Young Presidents Organization (YPO), where he serves in leadership to more than 28,000 chief executives in over 130 countries to help them engage, learn and grow.
Zabetian speaks three languages: English, Farsi, and some German, and is learning to play his classic rock favorites between conference calls on his new electric guitar.
Thought Leadership By Fardad:
4 mentalities to adopt when globalizing your startup company.
A digital playing field may actually lift corporate language barriers.
Highly skilled interpreters can unlock opportunities for you around the world.